Sept 7: Yesterday, after posting the blog about my dorm, internet access to all non-foreign sites slowed down considerably and I could not update this site at all. It seems that the Great Firewall fluctuates in intensity. That is going to cause a problem when doing online research. During our orientation on Friday, the world wide internet also slowed to a crawl, preventing our presenter from showing us how to use some classroom software. That is not encouraging. So this posting is off to a grim start.
What I wanted to talk about in this post is much more silly: the JinJi Lake "Ferris Wheel Paradise." My colleague Raffaele Pernice pointed out this area as a place to think about for planning, so I headed out there promptly on the evening of 3 Sept, in part to figure out how to get around the city by bus.
There are many large lakes in SuZhou, including several within the SuZhou Industrial Park alone. XJTLU is on the east side of DuShu lake. Immediately to the north of DuShu is JinJi lake, which you are looking at in these images. On the west side of JinJi lake is the Central Business District of SuZhou Industrial Park–or in planning parlance, the CBD of SIP. Like most high-rises in this region, the Oriental Gateway is a mixed-use development of retail, office space, hotel, and luxury apartments in a stack.


On the north shore of JinJi lake Science and Cultural Art Center, visible on the right in the image above. The lighting on the outside of the Center cycles through the spectrum; at the moment I took the photo it was fuschia. The Center also has a large music venue; we could hear the rock band from a kilometer away across the lake.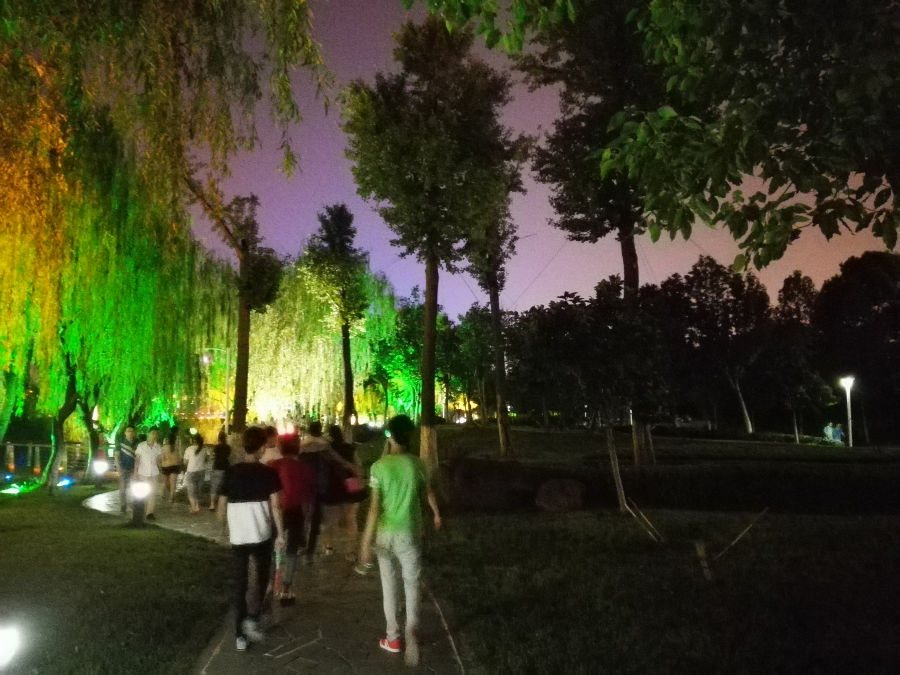 The trees in the lakeside park are illuminated in green, and the glare from the Center caused the local sky to glow vividly. The overall effect was surreal.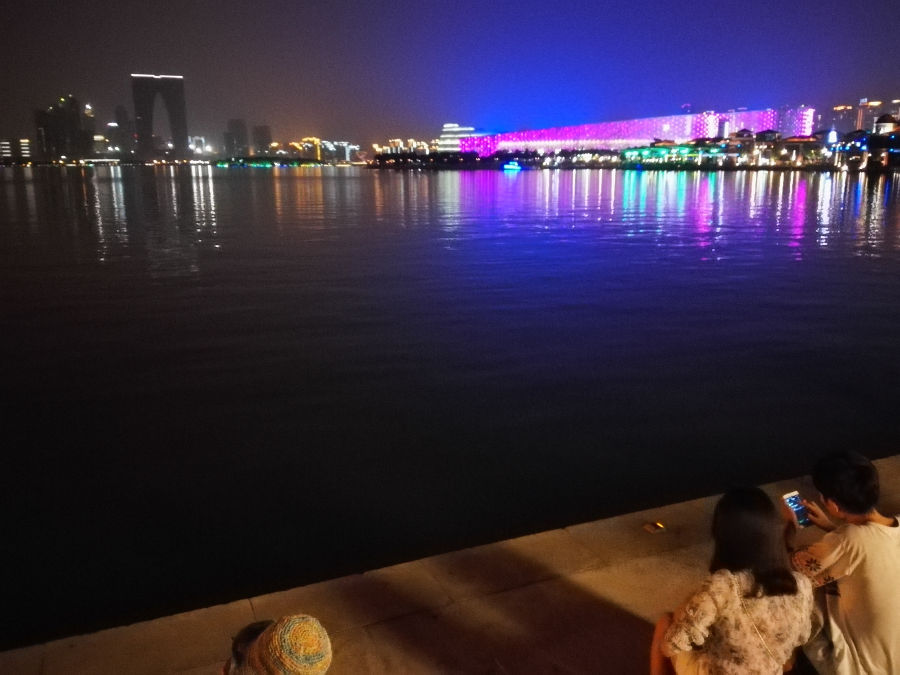 Beyond the trees was a set of steps along the shore of the lake. Not sure of the expression for this kind of feature in American; I think Brits would call it a quay or quayside; Indians might call it a ghat like on the shores of the Ganges at Varanasi. In any case it was lovely and romantic.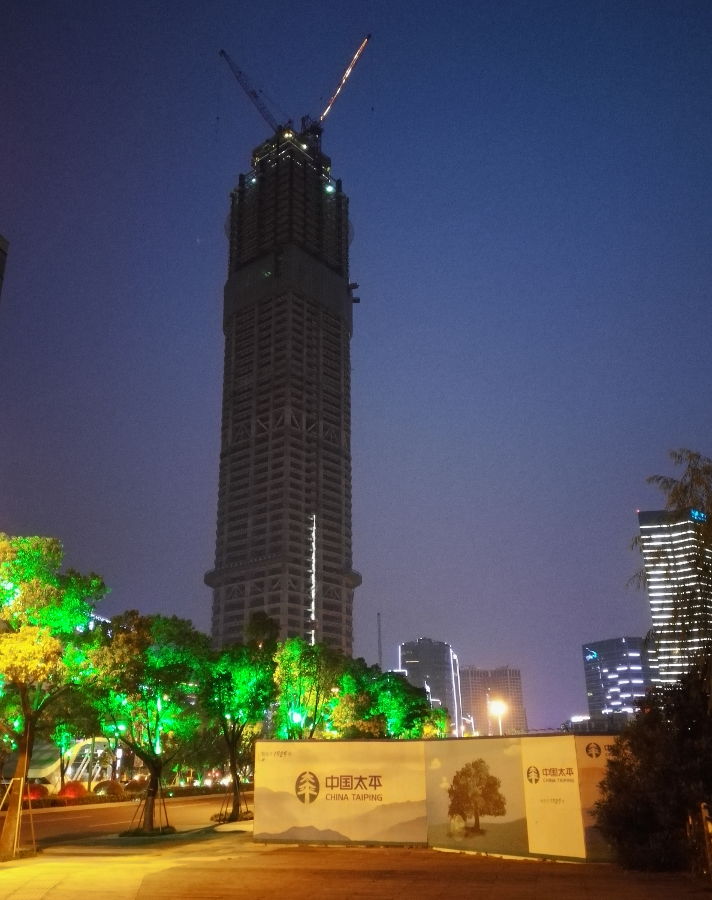 Behind this quayside plaza is the Times Square area of Suzhou. I will discuss that district in other posts, because we will be studying that area for our urban design studio. As you can see from the office tower under construction, it is a major business district.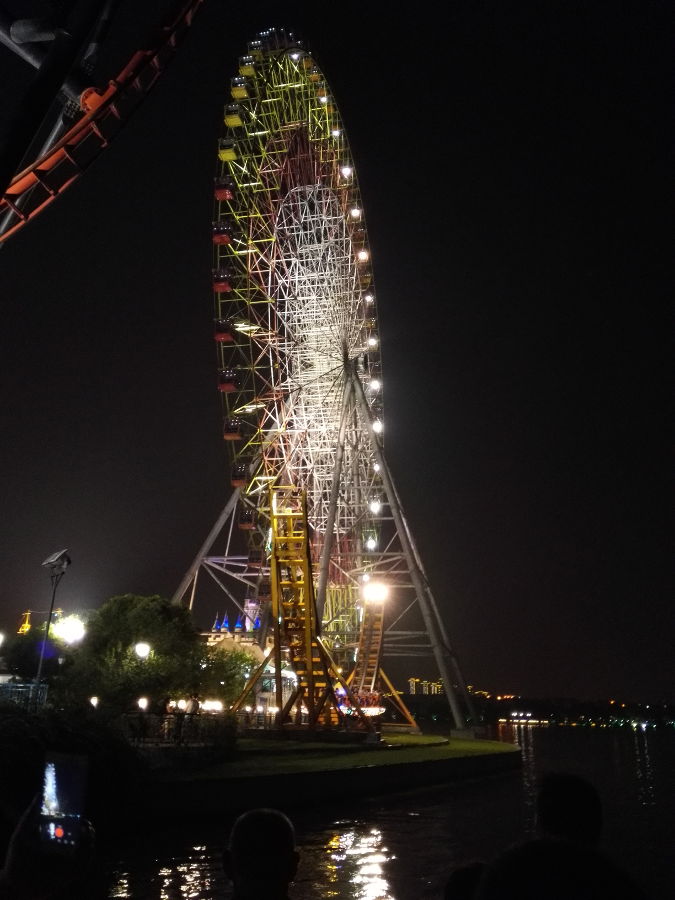 Back to the lakeside: this is the eponymous Ferris Wheel of Ferris Wheel Paradise. Like the London Eye, it is huge and runs very slowly, giving passengers a private and marvelous urban view for at least 10 minutes. Maybe 30; I didn't time it.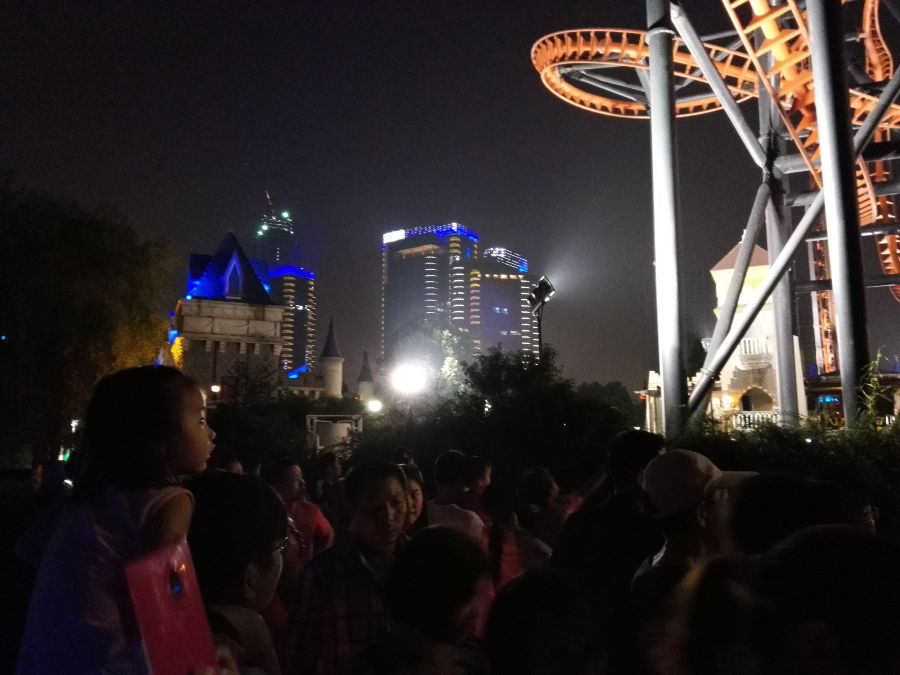 Adjacent to this amusement park is a free pier that extends into the lake. At least 100 of us decided to go out onto this pier and enjoy both the lake view, and the view of the roller-coaster in the park. I think maybe the park developers built this pier to entice people to pay and come into the park; but with our close-up view of the roller coaster, my sense was that the crowd was thinking 'No, let's not ride that.'
As you will see below, the roller-coaster car goes upside-down (and backwards) on this track. I call it "the screamer."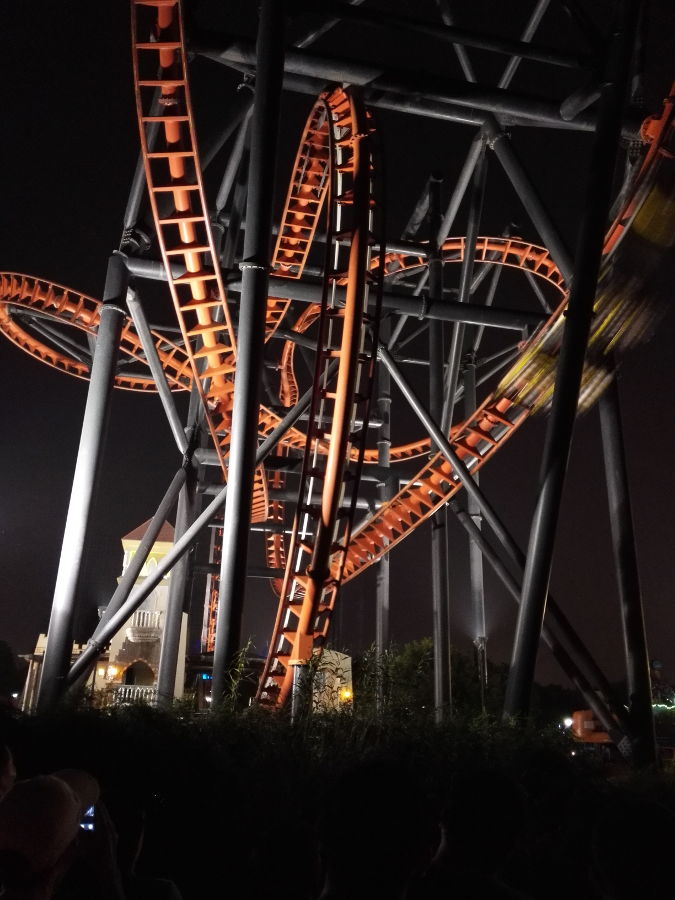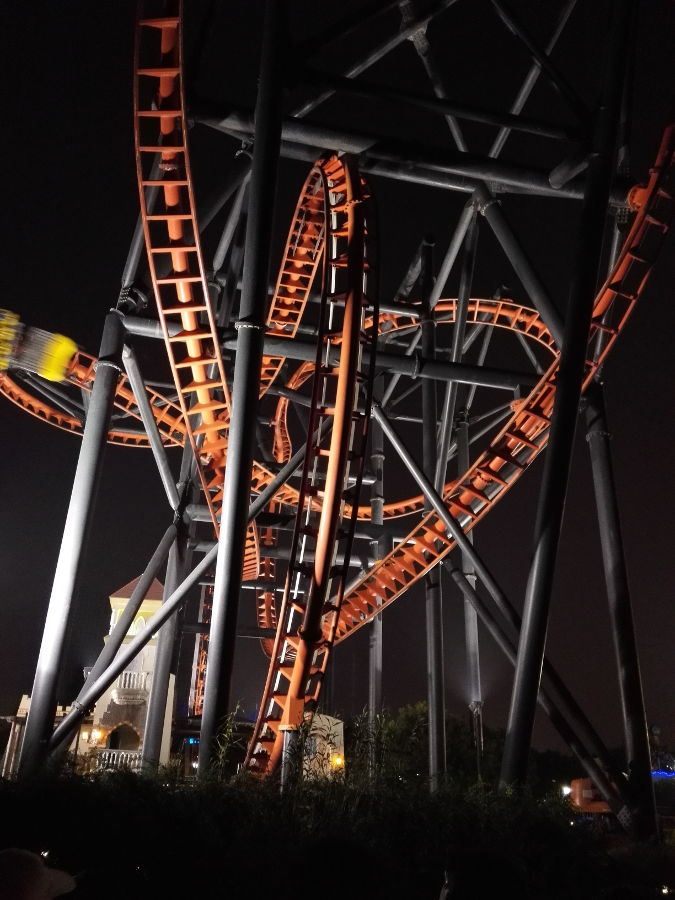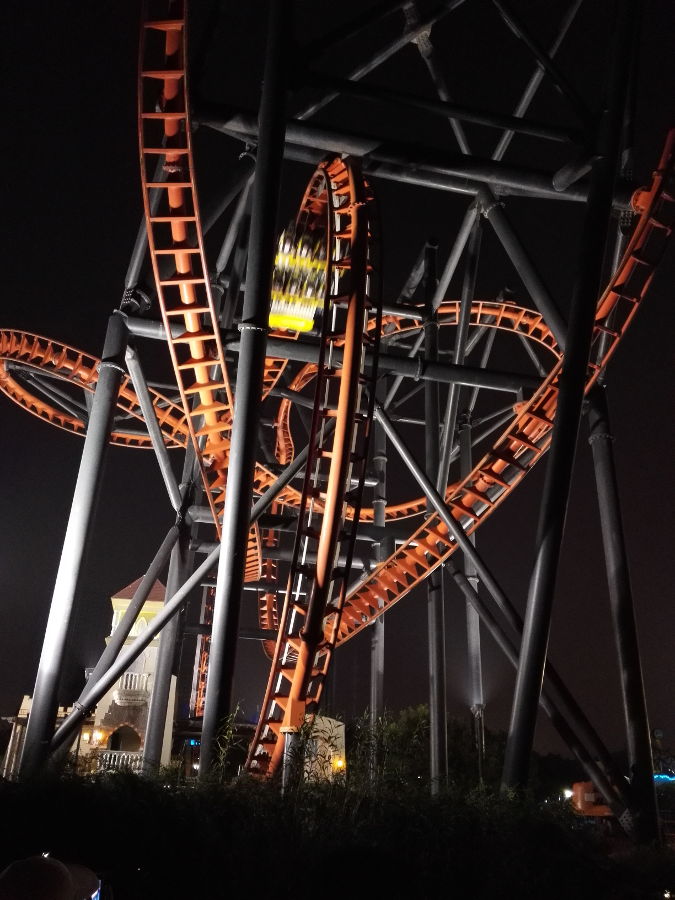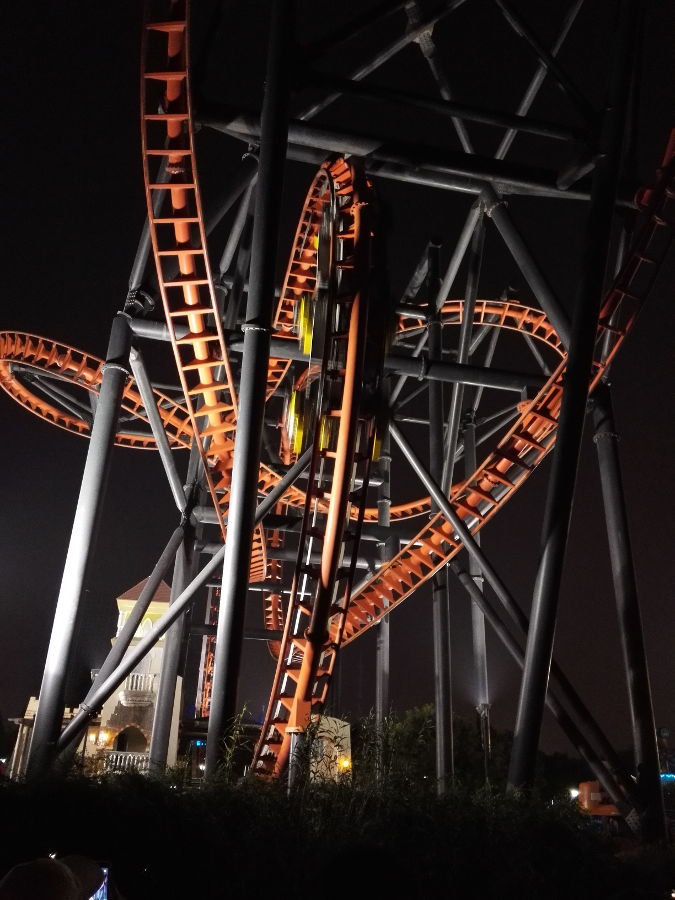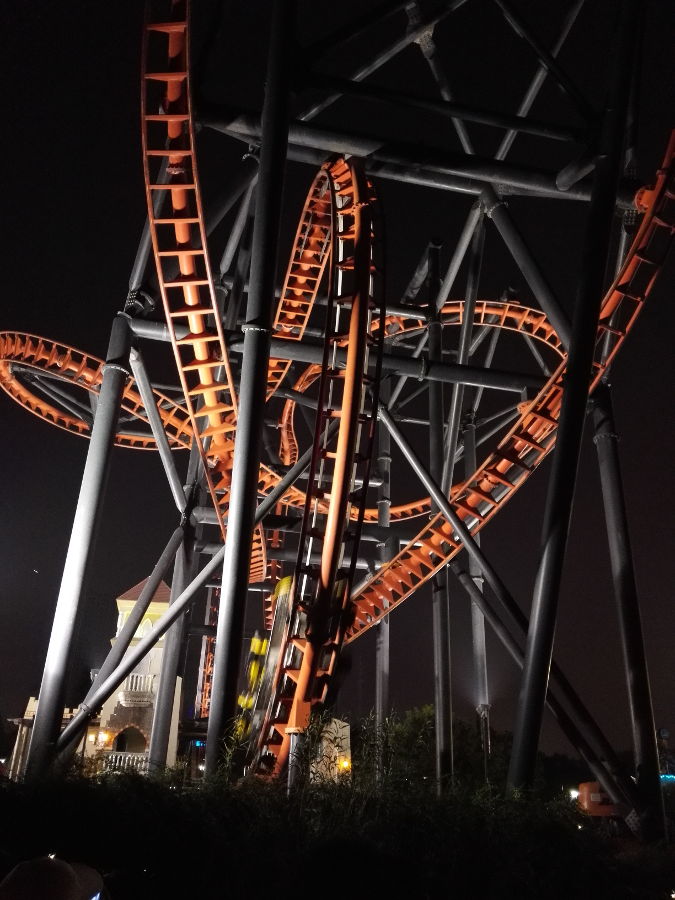 Yeah, I don't think I'll be paying to ride that anytime soon. I would rather turn around and enjoy the lake view: