As mentioned before, my posts may be image-heavy and text-lite for a while; lots to do here. But one piece of overlap is the map above: I want to improve the maps available to faculty when they arrive at XJTLU. This map started as a screen-capture of a Baidu Map; hence the Chinese place-names. I overlaid English place-names while retaining the Chinese. Hopefully this will help recent arrivals get a sense of the district immediately surrounding XJTLU. It could also be used for bus and taxi directions, and then for beginning to learn Chinese place-name characters of the area. This is a first draft, so I am going to invite my colleagues to give input.
In the map above, Parfait International Apartments is at the bottom right. It is recently opened, so many fellow faculty are not familiar with the location. The city continues to expand in epic fashion to the south and east of my apartment, which you will see in some images below.
The overall area of XJTLU and the surrounding district shown in the map above is the DuShu Lake Higher Education Area, which is part of the SuZhou Industrial Park (SIP). The SIP is a massive eastward expansion of the city. I will be studying this, so expect more about it in future posts.
You may notice that I am capitalizing every character in Chinese names. This is to help fellow newbies think about how many words are compound, written with two discrete characters. SuZhou is written as two characters: 苏州. SuZhou city (苏州市) is the capital of JiangSu (江苏) province (省). Note that the character for Su (苏) is the same in both the city and province name. So! A first lesson in Chinese.
This helps for writing addresses. In China they start with the most general–the name of the country–and then get more specific. The full name for China is the People's Republic of China, but in addresses they usually just write ZhongGuo (中国). So the first part of my address is:
(中国 江苏省 苏州市), Which translates as China, JiangSu Province, SuZhou City.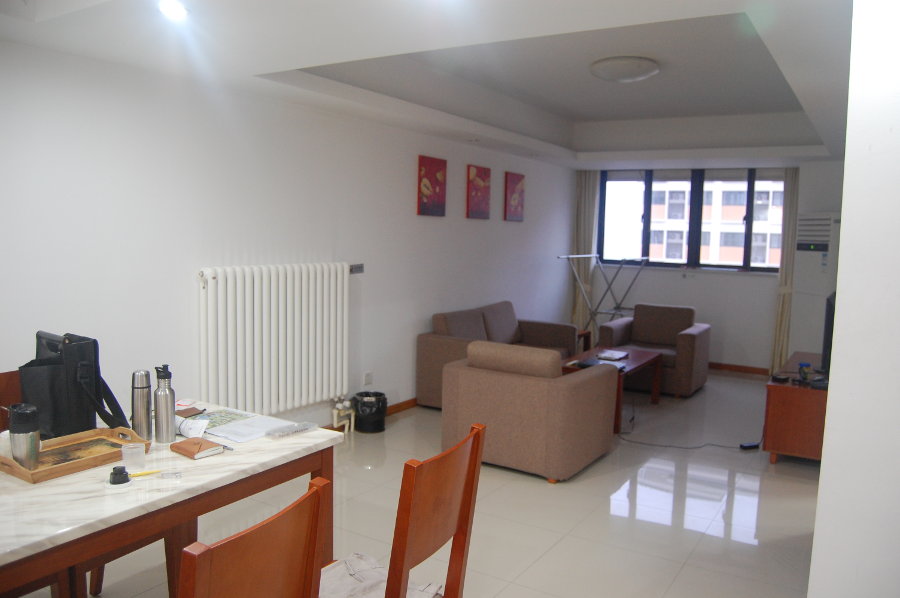 Living area of my apartment. Rather nice.