I got some interest in the map and analysis in the previous post, and upon request I have proceeded to overlay race data with foreclosure data. It should not surprise anyone that the news is grim. But better than a graph, a map shows disparities in space. So: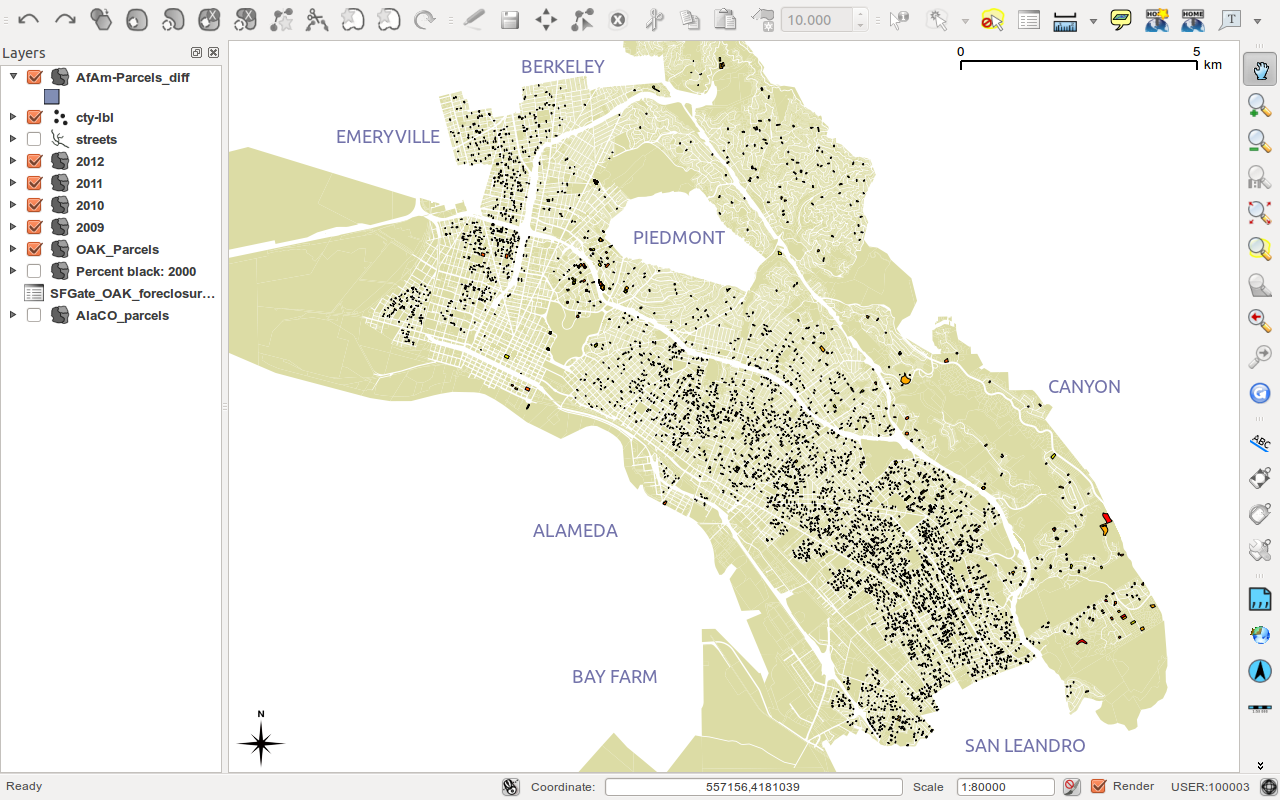 The above image is the same foreclosure data I showed in the previous blog posting, with the surrounding Alameda County cities removed…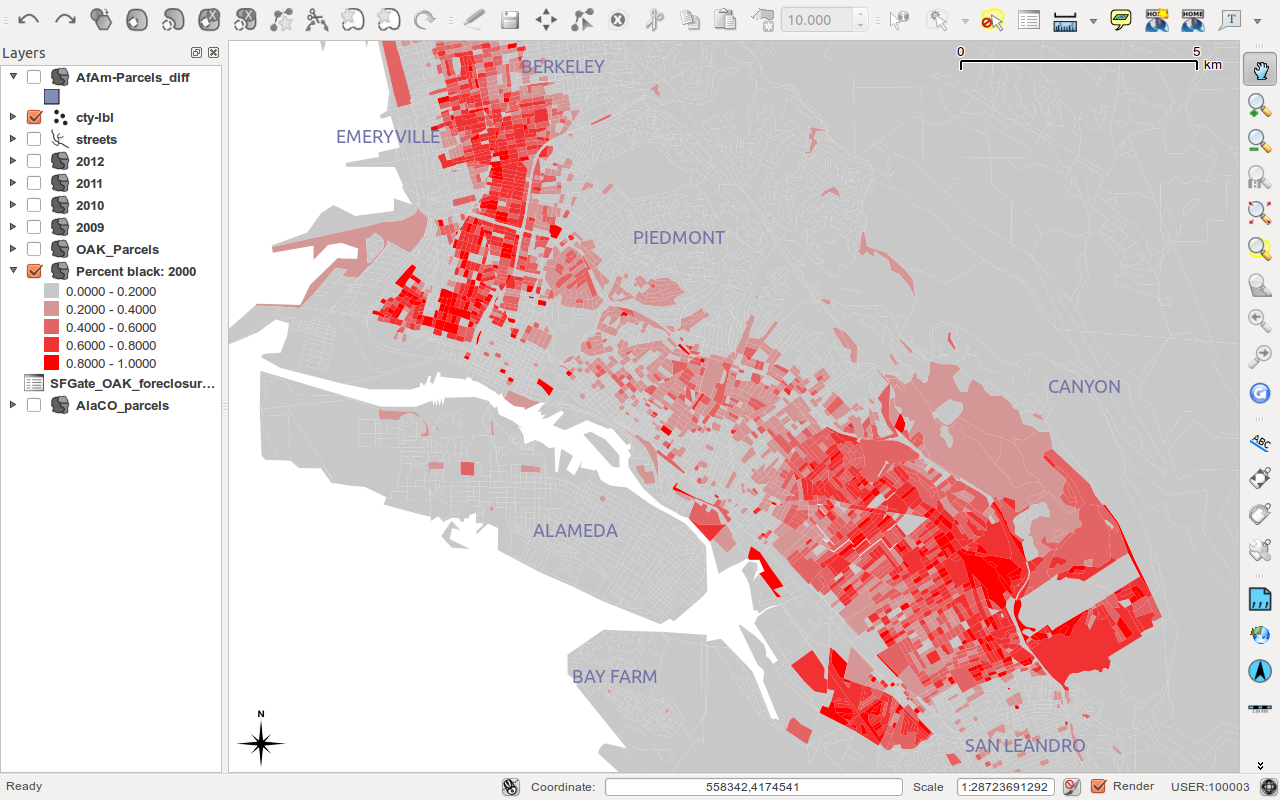 This second image is exactly the same area, but it shows the percentage of African-Americans out of the total population of each Census Block in 2000. The data is provided by the Association of Bay Area Governments and the Metropolitan Transportation Commission. Why did I use 2000 data instead of 2010 data? I will get to that below. First, let's overlay these two maps: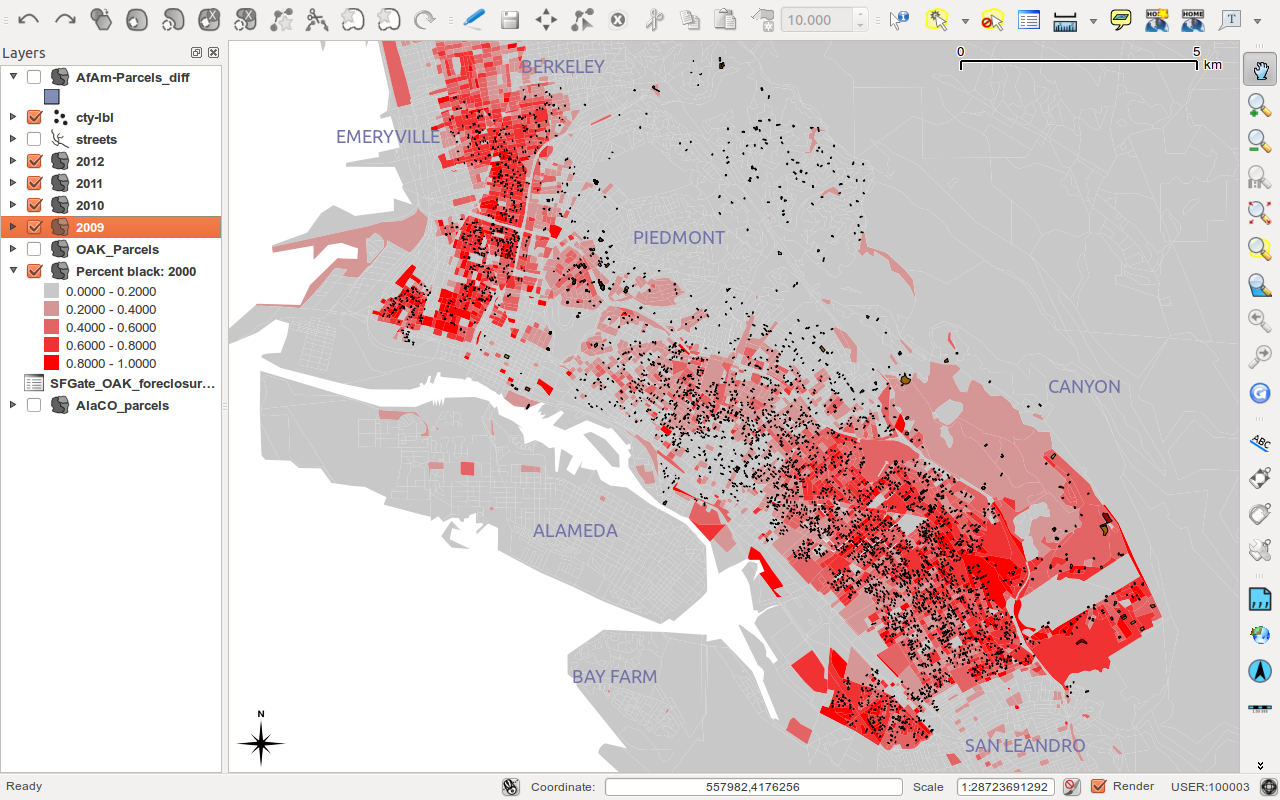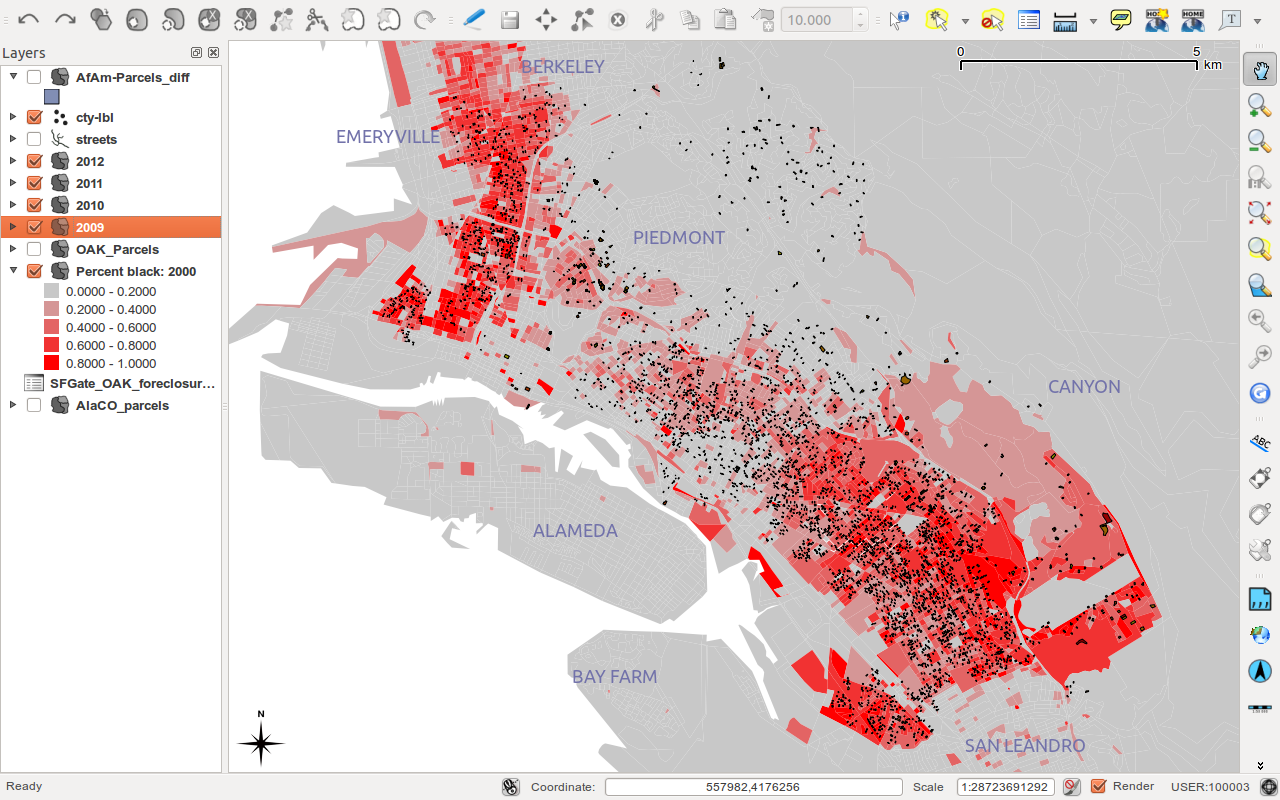 Yeah, what I suspected and dreaded. But wait: what about the Fruitvale area in the center of Oakland, where the density of foreclosures is high, but the concentration of African-Americans is not so high?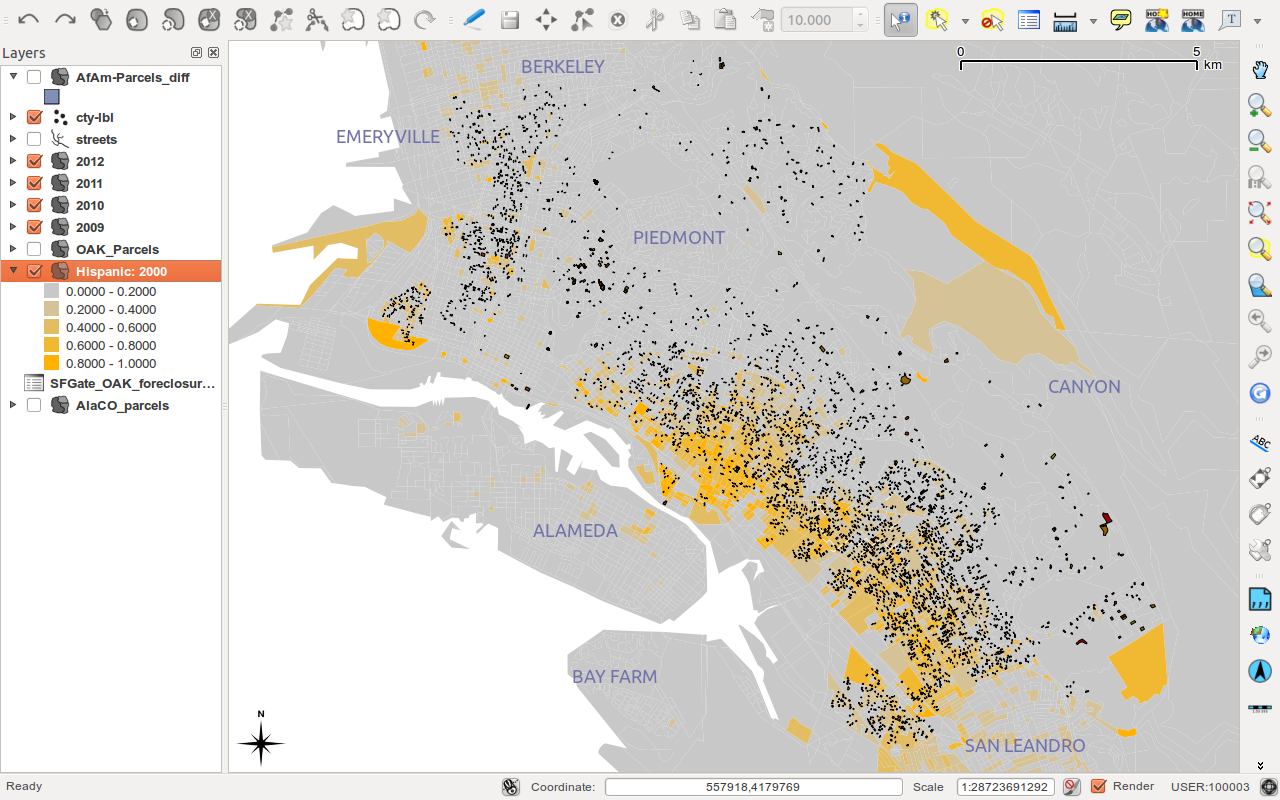 Mmm. Higher concentration of Hispanics.
Now: why did I use 2000 Census data in these maps? Because in the Planning Department at UC Berkeley we have been tracking the exodus of African-Americans from Oakland for more than a decade. We know that African-Americans are being displaced, moving to Antioch, Stockton, and new developments in smaller Central Valley towns like Patterson. The maps above show indirect evidence of this: the UC Census only releases block-level data to protect the privacy of individuals; so we can only impute that a high rate of foreclosures in a neighborhood with 60-80% African-Americans means that the African-Americans themselves are being displaced. But a comparison of the 2000 and 2010 Census data for Oakland confirms the actual exodus: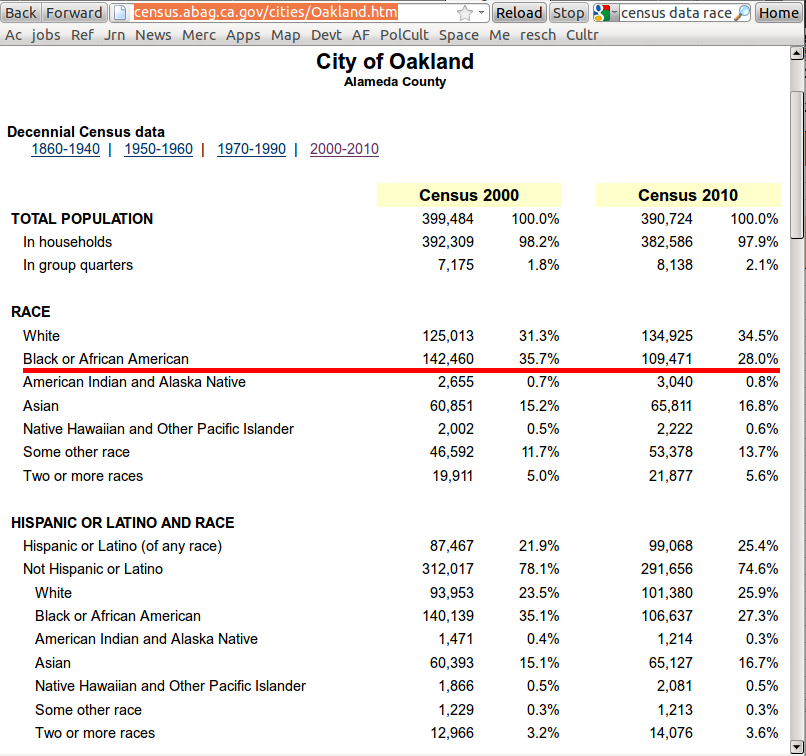 This is a screenshot of ABAG's data with African-American data underlined. Alone among all the populations in Oakland, the proportion of African-Americans is declining. This is a reversal of the Great Migration of the 20th century, when African-Americans fled rural violence in the South and moved to cities where they became industrial workers. Now, they are being priced out of the job-center–the inner Bay Area–and commuting far longer distances from places where they thought they could live. I have been hearing (and now I am collecting) stories about this exodus: moving out to Pittsburg/Bay Point/Antioch, and Stockton, Modesto, and smaller Valley towns and then facing even more severe foreclosure and community collapse in the Central Valley.
So: if I had used the 2010 Census-block data, the presence of African-Americans would show up more faintly on the maps above, because the massive displacement of African-American families was already underway (as the table above shows). The older data shows the communities that would be targeted by deregulated banks and mortgage-sellers from 2002 to 2007.
One more map, to show what we may want to fight for and defend: diversity.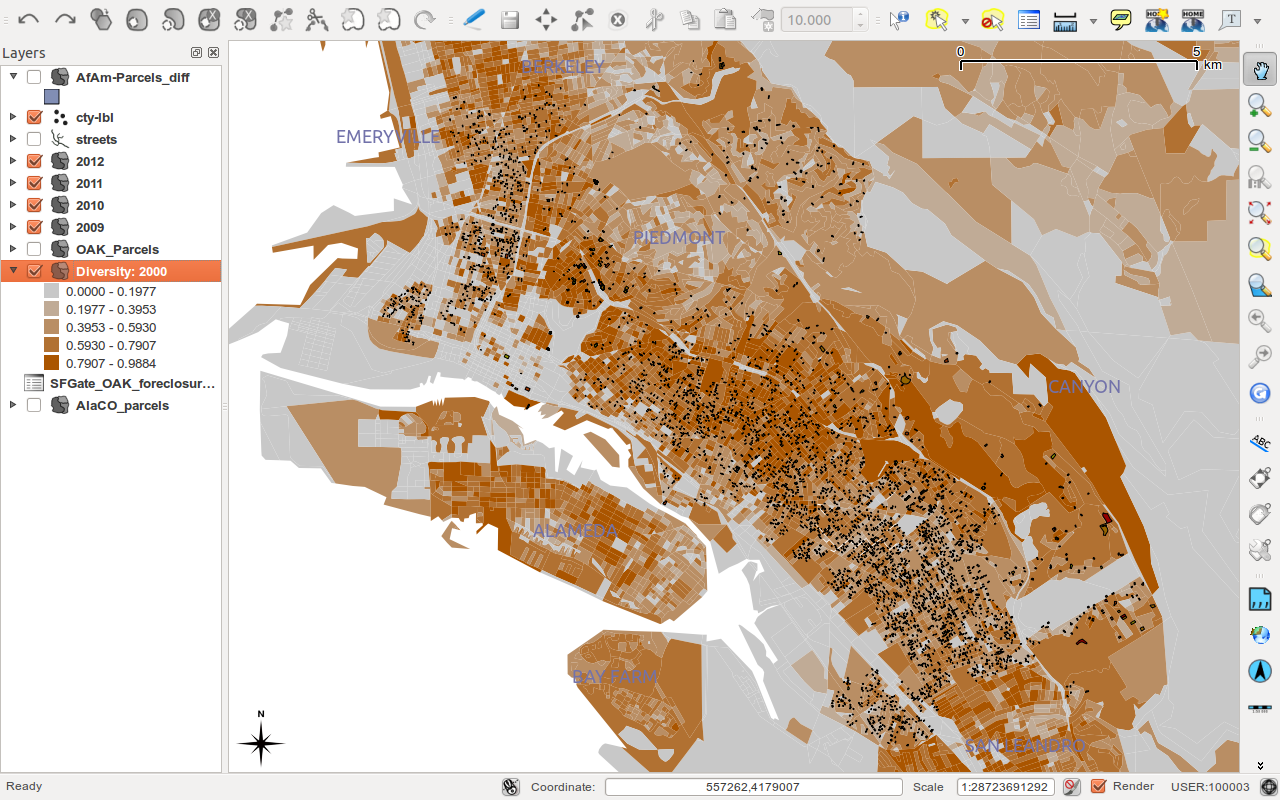 The East Bay stands out among cities across the world for its ethnic diversity. Technically, formally, we are citizens of the United States. But in practice, we are residents of the East Bay, and in its original form, citizen is a contraction of 'city-denizen.' Citizenship–the sense of being a member of a public society–still has this meaning because our habits and dispositions are formed from direct experience of the places we inhabit. The East Bay–and Oakland especially–is one of the great formative sites of what the Stoics dreamed of as Kosmo-politei: being an engaged member of the whole, a world citizen in practice, not just in ideals. That diversity means age (the foreclosures in the hills may be concentrated among elderly people who were also targeted for bad mortgages), as well as ethnicity and class. This foreclosure crisis is forcing yet another re-segregation, a mass-expulsion which amounts to a refugee crisis. I do not use the term 'refugee' lightly: my primary work over the past decade has been in Afghanistan. The American foreclosure crisis is not as visible, until you start looking a little closer and seek out stories of foreclosure.
This brutal mass-expulsion is all legal. We have written the laws and allowed the policies that make predatory lending practices legal. If we are an ethical people, we will pressure our legislatures, courts, and corporations to change those policies.
I close with a brief meditation on racism. In the 1960s we talked very abstractly about "the System" and "the State" when in fact discriminatory policies were very specific. Now I think we need to flip that pattern. In general, the structure and rules of social relations in the U.S. are racist. That should not be news to any American; but if it is, the data above is pretty good evidence of that bias.
The way racism works, though, is through neutral market rules applied in a non-neutral society. As one example, deregulation has meant that banks are free to behave as their staff prefers. When we get to the fine detail of loan decisions, bankers assess risk based on a lot of social factors. One of those factors is whom they know. So if bankers live in the hills, and send their kids to prep schools, and take vacations in Tahoe and Europe, then poorer African-Americans who are a lower default-risk are an unknown population. That sort of unfamiliarity promotes phobia (fear/hatred) in a very human way.
Very common, prosaic practices are perpetuating racism. The way we commute in cities, patterns of recreation, whom we encounter on a daily basis on sidewalks, in public-transit vehicles, in cafes and(or) fast-food joints. If we know this, what are the ethical things we can do to prevent this legal means of forced re-segregation and displacement?
If foreclosure refugees want to come back, then as citizens we should implement this right-of-return.
Foreclosure-evictees were mortgage-holders. One way to facilitate their return is to request reparations from banks in the form of new and rehabilitated housing for the victims of foreclosure, in the neighborhoods from which they were expelled. The legal rights-nexus is clear, and many of these neighborhoods are precisely the places that need investment in the people who live there. Building and refurbishing housing for foreclosure-refugees might do what gentrification fails to do: improve the condition of the urban environment by actually helping the people who have lived in that neighborhood for decades.