Today is June 4, the 31st anniversary of the Tiananmen Square massacre, in which an authoritarian regime violently cracked down on peaceful (if boisterous) protesters calling for democracy. One of the protesters at today's march in Oakland reminded me with his sign, and emphasized how important it is to remember the struggles for democracy, rule of law, and justice at this moment. Rights-struggles have a global context we must remember.
On Tuesday, June 2, I blacked out my Facebook photo to honor Blackout Tuesday. This precipitated a quick lesson in globalization: one of my Afghan friends called me from Los Angeles, and two called from Afghanistan to ask whether we had experienced a family tragedy. I explained that we were honoring George Floyd (and Breonna Taylor, and Ahmaud Arbery). They understood, but were wondering because a terrorist attack had just killed one of the most respected religious leaders in Kabul: Mullah Mohammed Ayaz Niazi. Again, this is a reminder that many peoples around the world are struggling and suffering. They respect why we are protesting, and they watch our successes and failures very closely because it can impact them directly. Authoritarian leaders across the world are greatly emboldened by our current president's tone and behavior. Conversely, they may feel worry at the civil pushback against him.
Firsthand experience
This afternoon, I participated in a protest honoring George Floyd. Our family discussed the risks of COVID-19 infection beforehand. This is not a new discussion for us. When I returned from Kabul in 2006 and promptly broke into a very high fever, I was appalled to think that I might have contracted multi-drug-resistant tuberculosis (which had been spreading from Russian prisons). Turns out it was only pneumonia from when I was caught outside in a dust storm in Kabul without a mask, so intravenous antibiotics knocked that out. But it put us on notice in a way that persists to this day.
At the plaza
The protest, however, was beautiful. At one point, the folks at the podium led a centering-calm chant:
I'm sorry. Please forgive me. Thank you. I love you.
Almost everyone was wearing masks and maintaining social distance. Medical students from the Berkeley/UCSF program showed up in greens with white jackets. As we headed out of the plaza to march around the downtown, someone parked, opened their hatchback, and handed out scores of lightweight plastic face shields.
We then marched through streets with verry little traffic. However, many people leaning out of windows, cheering us on. And then under the freeway and past the huge tent-settlement of unhoused people. Four disasters represented in one location: auto-dependency causing climate change; failed housing policies; a global pandemic; and a failed response to systemic racist violence.
The only awkward moment was when we were heading back towards Frank Ogawa Plaza. We had to cross over Interstate 980, and apparently the California Highway Patrol have jurisdiction on the city street that passes over the highway. They showed up in riot gear. One had a shotgun, perhaps with rubber bullets? Another had an M16. Might have been an AR-15 (I cannot tell them apart), but given the high per-capita rate of police killings in California, I think it was the former.
Oakland police also showed up, not in riot gear, and talked with the protesters.
Within a minute of arriving at this blockade, most of us knelt.
After about 15 minutes, the CHP backed off and we proceeded cheerfully back to Oakland City Hall.
Once we gathered back at Frank Ogawa Plaza, one of the speakers reflected on the promises enshrined in the Declaration of Independence and the Constitution. We need to think very hard about who is most likely to argue for American ideals. In this case, a young Asian-American man. Consistent with their policy of allowing many voices, he handed the bullhorn to an older African-American man who stepped forward from the crowd and asked us all to support veterans. He described his three tours in Iraq, and said 'We did what we were asked to do. We served our country.' The crowd gave him a standing ovation.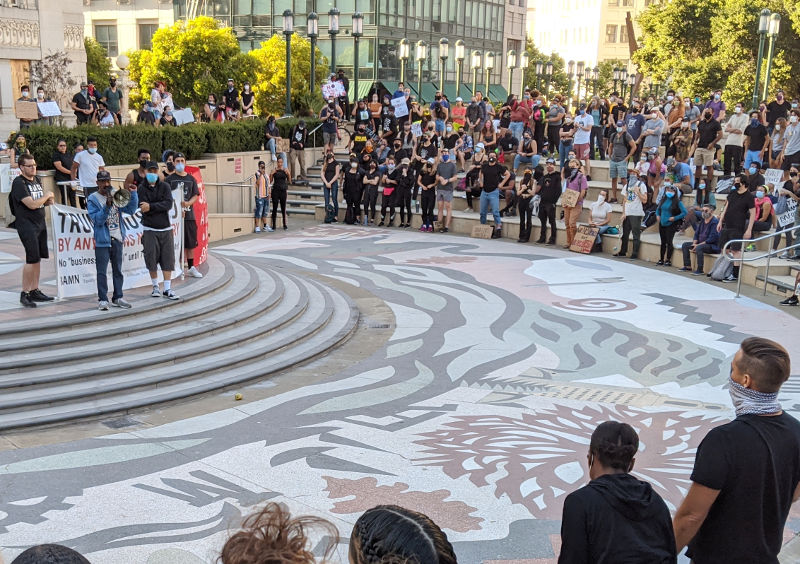 Some civics lessons
Who faces danger on a daily basis, in a living struggle to get the United States to fulfill its promises?
Who is best suited to teach us civics? Those who have experienced official violation of civil behavior, and yet still argue that we must embrace civility and confer citizenship on those committed to the ideals enshrined in the American Declaration and Constitution.
We glimpse the promise of our future below: